CHARLESTON, W.Va. (WSAZ) — President Barack Obama made a short, but important speech in Charleston as he focused on the drug crisis plaguing communities not only in West Virginia, but across the country.
The President arrived at the Roosevelt Neighborhood Center on Charleston's east end about 2:25 p.m. Wednesday.
President Obama started by saying this epidemic with prescription drugs and heroin doesn't have an easy solution.
That's why he felt like it was important to talk directly to people who have been impacted by the drug epidemic, including children, parents, politicians and law enforcement.
President Obama says he started studying about the drug epidemic when he first took office and he was stunned by the statistics.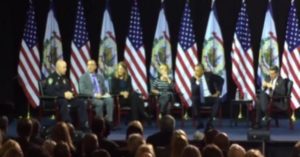 "I don't have to tell you this is a terrible toll," President Obama said. "The numbers are big, but behind those numbers there are incredible pains for families and West Virginia understands this better than anybody because this state is home to the highest rate of overdose deaths in the nation."
Right now, West Virginia leads the nation in drug overdose deaths.
The President believes prescription drugs have become the gateway to heroin addiction.
"West Virginia understands this better than anybody. This crisis is taking lives, it's destroying families, it's shattering communities all across the country and that's the thing about substance abuse, it doesn't discriminate, it touches everybody," the President said. "Part of the goal is to change those words from junkie to names like father and daughter. We can't fight this without eliminating stigma."
Before traveling to West Virginia, the Obama Administration issued a memorandum to federal departments and agencies that calls to provide more training for health care professionals and to improve access to treatment facilities.
"Rather than spending taxpayers dollars for [prison] sentences spend the money on treatment," President Obama said. "We've all got a role to play because of young people like Jordan [person in crowd]. They remind us that these are our kids. Not somebody else's kids, it's our kids, not somebody else's neighborhood, it's our neighborhood and they deserve every chance. We've got to make sure that we're doing right by them. We're taking this seriously and the goal is to shine a spotlight on this and to make sure walk out of here with all of us committed to doing something about it."
During the event, several people spoke, including a local mother, Cary Dixon, who talked about how drug addiction has impacted her family and the struggle to get an addict help.
Dixon says parents need to educate themselves on the problem.
The president says we are going to have to fund, build and establish more treatment facilities.
"Having a treatment facility is just as important as having a health clinic to treat any other disease," President Obama said. "With no other disease do we expect people to wait until they're a danger to themselves or other to self-diagnose and seek treatment. every other disease, if you got a broken leg, you got diabetes, you got some sort of sickness, we understand that we got to get you help. And we also understand when it comes to other diseases that if we don't give you help and let you suffer by yourself then other people could get sick. This is an illness and we got to treat it as such. We have to change our mindset."
Charleston Police Chief Brent Webster also spoke during the event about the importance of getting violent drug offenders off the streets, but he believes it's just as important to provide more treatment facilities that will help people.
Chief Webster also talked about what the Charleston Police Department is doing to assist people who need help, including administrating NARCAN to people who have overdosed in the city.
President Obama told the crowd he believes income and race make a difference. He believes poor communities are more vulnerable to the drug epidemic.
Before leaving the forum, President Obama praised West Virginia for launching the program called "Handle with Care." It's an initiative to help a child if they are exposed to trauma at home, including the drug epidemic. Organizers say these children need help dealing with it and this program helps them.
The pilot program was first launched at the Mary C. Snow Elementary School on the west side of Charleston. Since March, the program has been expanded to several other schools districts across West Virginia.
The president says this program needs to be advertised and expanded across the nation.
"Whether we are a faith leader, an elected official, in law enforcement or whether we're a private citizen or a business we've all got a role to play," said President Obama. "You understand that in West Virginia and we want to make sure the whole country understands how urgent this problem is."
U.S. Sen. Shelley Moore Capito, R-W.Va., released the following statement after President Obama's visit:
"Over the past several months, I have worked with local communities, law enforcement, health professionals and others to develop a spectrum of solutions to curb this epidemic and am pleased we have a partner in the White House on this issue. While we still have a long road ahead, I am encouraged that with ongoing efforts in Congress and the new efforts announced by the administration today, we can make meaningful strides toward a drug-free West Virginia."
See more at: http://bit.ly/1QcZqdS