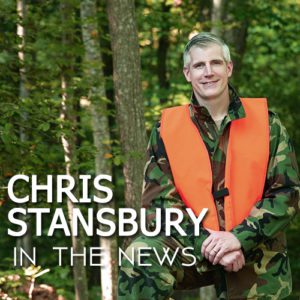 A Kanawha delegate has introduced two pieces of legislation he says will help improve the health and fitness of West Virginians.
Chris Stansbury, a Republican, is the sponsor of House Bill 2441 and House Bill 2443. Both bills will, he says, help the state's residents improve their quality of life by allowing for increased fitness opportunities and life saving education.
"Shared use is a concept that's designed to encourage recreation in communities, to encourage health and fitness among adults and children," Stansbury said. "It allows for county school boards and the local school administrators to allow their properties to be used for unorganized recreation without concern of liability."
State code already allows for organized recreation to take place on school property that covers organized sports teams. But this legislation will allow the playground, track or gymnasium to be used for things like pickup basketball games or fitness classes.
Stansbury, an eye doctor, identified health and fitness as one of his campaign platforms.
"We've got a lot of health issues here in West Virginia," he said. "We're No. 1 in a lot of the bad categories — heart disease, diabetes, obesity — and a lot of these things can be improved just by getting people more active. We have an issue, especially in the rural parts of the state, where we don't have enough opportunity for opeople to get out and be active. We don't have walking trails, rails-to-trails or parks like we have in Charleston. It's nice to open the schools which are typically clean and safe and modern so that maybe somebody can teach a Zumba class in the gym if they wanted to or the local kids can get together and play pickup basketball."
The legislation wouldn't require county school boards to offer their facilities for after-hours use, but would instead give them some flexibility and decide if that's something they want to do. Stansbury said most school administrators he's spoken with are supportive of the idea. They often field questions from locals asking why they can't use school facilities for unorganized recreation.
"The thing that kept popping up was the fear of liability," Stansbury said.
"It's something they've wanted to do for the community, they just didn't feel like they were able to do that," he added.
House Bill 2443 would require students in grades 8 through 12 to have some hands-on CPR training. State code suggests CPR instruction already, but doesn't specify the hands-on training Stansbury said will better stick with students.
"Studies have shown if you just talk about the broad concept of CPR, students retain less than if they do hands-on training because they develop those psycho-motor skills, that muscle memory, to do the CPR itself," Stansbury said.
His legislation would require students to learn the Heimlich maneuver and 30 minutes of hands-on CPR instruction. Schools would be able to partner with local police, fire, EMS or hospitals to provide training to students at no cost to the school.
"It's not necessarily something we're going to have to add a line-item in the budget for," Stansbury said. "Through a partnership with somebody who is already a certified instructor, we're going to be able to bring those folks in and teach the students CPR without incurring any additional cost."
Stansbury said the legislation will mean more people have the skills to do CPR in the instances of stroke or other medical emergencies that may require it.
"You could save a life," he said."
Contact writer Whitney Burdette at 304-348-5149 or whitney.burdette@dailymailwv.com. Follow her at www.Twitter.com/wburdette_DM.
– See more at: http://www.wvgazettemail.com/article/20150127/DM0104/150129317/1276